Our mission is to create sustainable partnerships that our clients – whom we have successfully gained their trust through delivering high quality services – can always leverage to their benefit.
Our belief that "A Jack of all trades is a master of nothing" has pushed us to establish formal partnerships with the best suppliers in Jordan,
We are connected with a vast network of local community leaders and mobilizers in every governorate. This means that we have a unique understanding of local markets, culture, and needs, which allows us to adhere to client expectations in respect of event execution, as well as confidentiality and duty of care.

"You have to learn the rules of the game, and then you have to play better than anyone else"
~ Albert Einstein..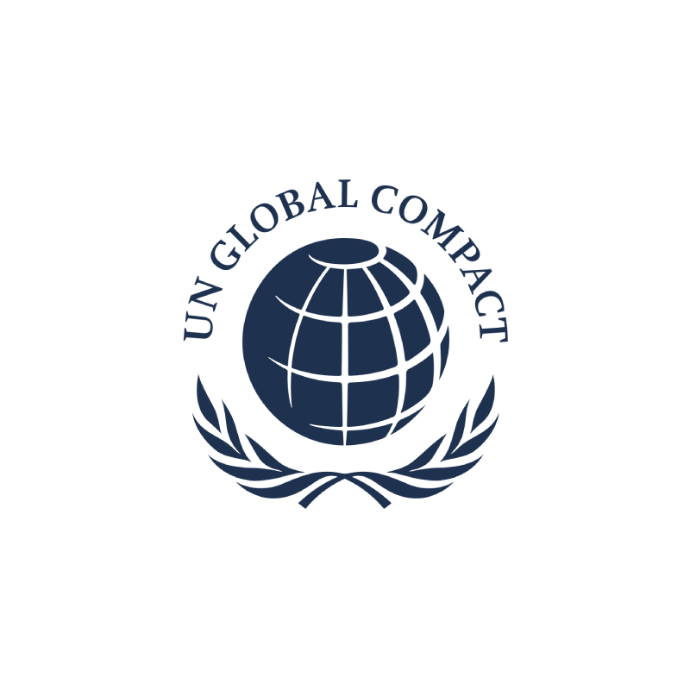 Today, Between the lines Communications and Events is pleased to announce that we have joined the United Nations Global Compact initiative — a voluntary leadership platform for the development, implementation and disclosure of responsible business practices.
BTL has aligned our strategies and operations with the Ten Principles of the United Nations Global Compact since 2021.
​

Recycling in Jordan Activity, I worked with BTL on the Why You Should Recycle campaign. Due to the urgency of the scope, the work had to be performed on a very short timeline. BTL provided us with the needed skillset to deliver high-quality products. BTL's team, an account manager, creative director, designer, and content creator asked all the right questions to understand the campaign mix. The team at BTL demonstrated a great understanding of the campaign mix by delivering excellent communications products, with a consistent tone of voice, which deliver the right messages to the right audience. BTL delivered the complete scope within an extremely challenging timeline and of great quality.
​

For the past five months, BTL have been delivering superior quality services for the YPJ under a subcontract to The Kaizen Company. The team has proven to be adaptive, professional, proactive, and reliable. our relationship with BTL was professional and fruitful.

​

Their experience and willingness to fulfil USAID LENS requirements to led to successful implementation of the fair. the team at Between the Lines is professional, reliable, proactive and knowledgeably in their filed .
​

We were impressed how BTL team showed high capabilities in understanding our needs and reflect them on the event they conceptualize. they are also very successful in identifying, managing and engaging partners and stakeholders related to the fair.
​

They were very responsive even to last minute requests. Their prices were very competitive as they had been selected in a rigorous bidding process. They were very creative in their setup ideas, practical and had amazing trouble shooting solutions. The registration process, which is always very cumbersome due to the nature of our attendees, was the best amongst the total of our five conferences over the years since 2010. The team is very cooperative, polite and representable. The required deliverables were on time and the reporting and financials were accurate.

​

BTL Las been working extensively with PFMA and income and sales tax department ISTD in designing and implementing the campaign. in addition, the campaign included conducting a large-scale perception survey that covered around 2000 respond in five governments in Jordan. despite the complexity natural of the campaign BTL is showing high standards of professionalism and commitment for example BTL has provided dedicated team of high professional staff who are very responsive and to the short notice requirement they are also very proactive in providing assistance. In Addition; BTL has shown high reliability in terms of delivering high quality deliverables in a very short period of time and making professional advice lastly BTL has extensive and excellent relationship with almost all media outlet in Jordan something critical for a full- fledge media campaign.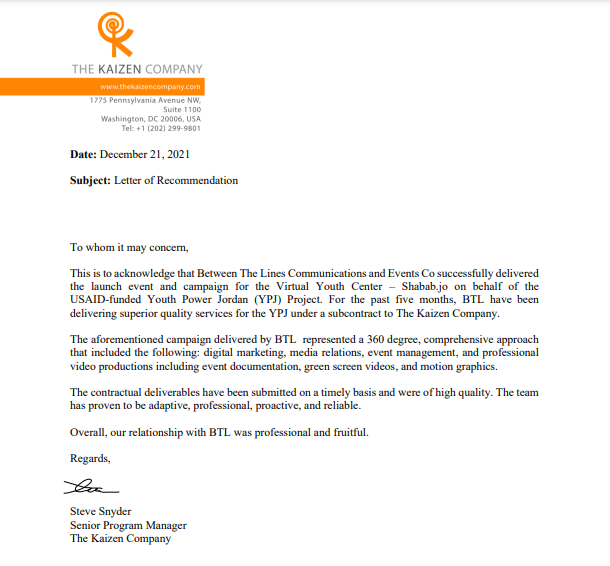 Steve Snyder .
Senior Program Manager of

The Kaizen Company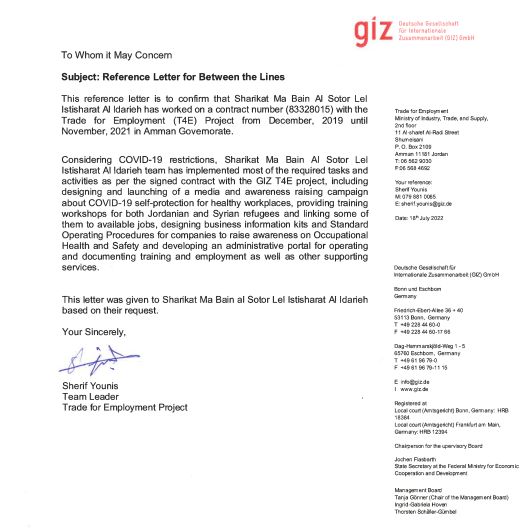 Sherif Younis .
Team Leader of giz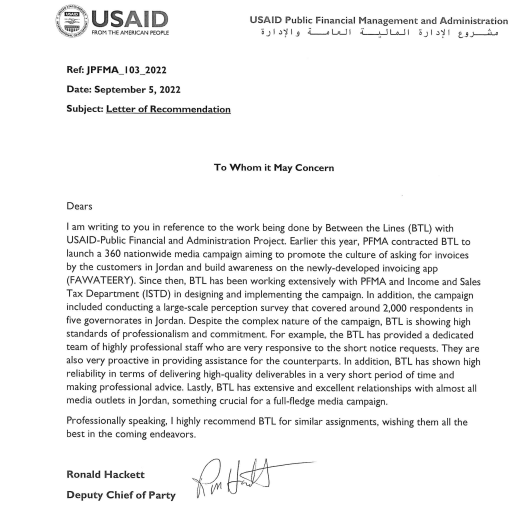 Ronald Hackett .
Deputy Chief Of Party
Of USAID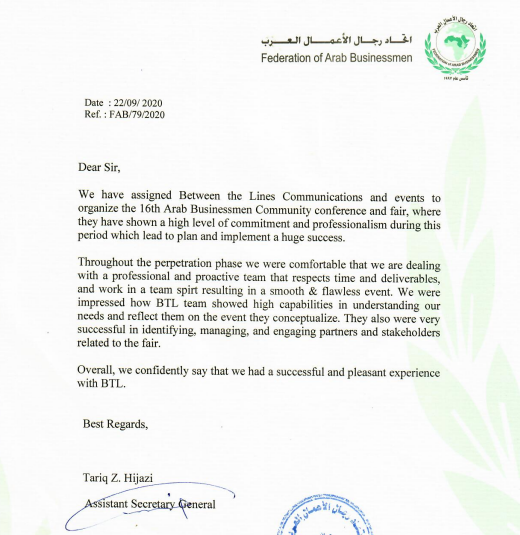 Tariq Z. Hijazi .
Assistant Secondary General of Federation Of Arab Businessmen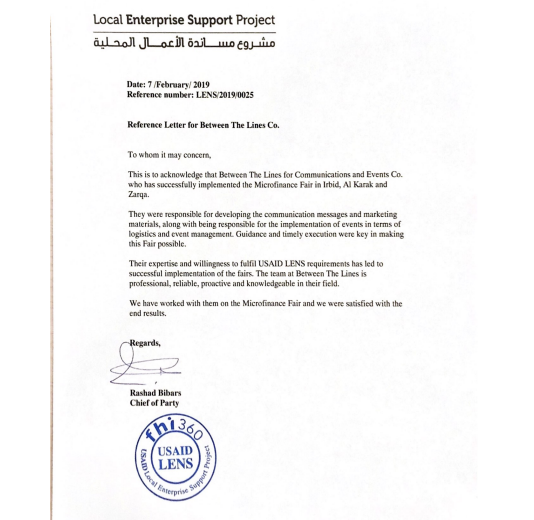 Rashad Bibars .
Chief Of Party Of Federation Of Local Enterprise Support Project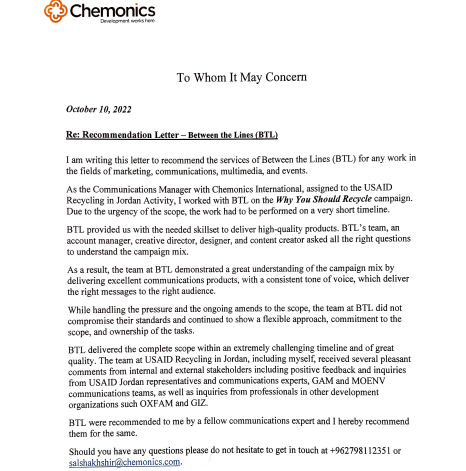 Sari Shakhshir . Chemonics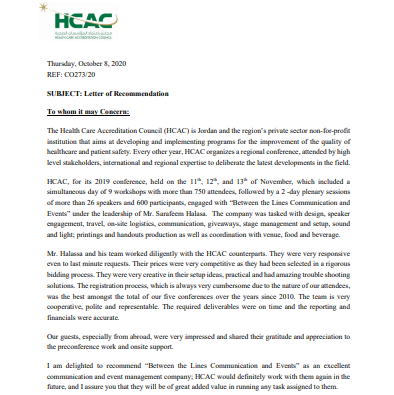 Salma Jaouni Araj .
Chief Executive Officer Of Healthcare
Accreditation
C
ouncil
Here is what we can do
Learn more about our services